2018 Centre Charity - Myton Hospice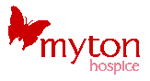 http://www.mytonhospice.org/
If you have any news for the Charity Page, then please send details to vicechair@eastwarwickshirecentre.co.uk
November Update
Just waiting for the final contributions to be paid in, so that we can announce if we have reached our modest target of £500
Thank you to all of you for your support throughout the season
October Update
A Raffle held at Kineton Sports & Social Club, has raised a further £67, and the Club refunded another £20 for our Charity.
We have 3 'small change' boxes in so far, and we will give a total as soon as they are all in. If you still have one, please con you let me have it as soon as possible.
September Update
Following a Raffle at Foxton Locks, we now have a further £50 in our Charity Fund. Thank you all for your support.
The Book Sale raised a total of £22
August Update
We continue to raise funds for our Centre Charity, and our thanks go to the Ralliers on the Holiday Rally in Exmouth who raised a substantial sum from their Raffle.
The used books are still selling well, and will be out again at the Foxton Rally over the Bank Holiday weekend.
June Update
After a slightly disappointing Chairman's Rally, we now have over £100 in the Charity Fund, against our target this year of £500, so there is still a lot to do.
You can still support your Chairman, your Centre and our Charity by donating via Karen's 'Just Giving' page :
https://www.justgiving.com/fundraising/karen-shaw17
The sale of used books will continue at future Rallies until September
April Update
We now have a direct contact with the Fund Raising Manager at Myton, who has supplied us with various items to assist our efforts.
Why not keep a 'Home Collection Box' to put all your loose change to good use. It is surprising how quickly 1p and 2p pieces add up. You can get a box by contacting the Charity Officer, Barry Roberts email: vicechair@eastwarwickshirecentre.co.uk
March Update
I will be collecting and selling used books (Paperback or Hardback, in good condition) at all Rallies attended, up until September 2018.
Please support this, and all the efforts of our Rally Officers over the coming months. All proceeds to the Centre Charity for 2018.
Many thanks, Barry Roberts
January Update
Thanks to Rob Penny and the members who attended the New Year Rally at Gilmorton, for the first contribution to this year's Charity.
Rob produced memory sticks of the pictures he took at the Rally, which were then sold to raise funds. Some of these pictures will appear on the website.
October update
Following on from last year's successful fund raising efforts, we are looking to repeat, or even exceed, that target in 2018.
Your Chairman and Juniors will be working hard to raise funds, and would welcome any additional events from our
Rally Officers and Ralliers to extend the fund raising.
2017 East Warwickshire Centre Charity
http://www.cancerresearchuk.org/
February 2018 update
A thank you letter has been received from Trudy Stammer, Head of Volunteer Fundraising
View a copy here
September update
At the AGM Social a cheque for £450 was presented to Mick Greene to go to Cancer Research UK.
Thank you to everyone who worked so hard to raise this magnificent sum.
August update
Thanks to the Ralliers at Exmouth Holiday Rally who raised a substantial amount through their Raffle.
Full details of the final amount to be presented to our Charity, will be given at the AGM
April Update
Congratulations to Chairman Karen Shaw, and Past Chairman Jane Burgoine, who successfully completed their 'Go Ape Challenge' to raise funds for this year's Charity. Don't worry if you didn't get a chance to get onto the Sponsor Form, it's still not too late.
This achievement was even more impressive because Karen has a fear of heights !!!!
So if you haven't donated yet, please contact Karen and give her your support.
March Update
Our Juniors have already made a start on raising money for this year's charity, and have more events planned.
At the Tackeroo Forest Rally on 28th April - 1st May your Chairman, Karen Shaw, aided and abetted by Past Chairman, Jane Burgoine,
will be doing the 'Go Ape' challenge and are looking for sponsors. Forms can be obtained from Karen.
Please give them your support, and join us for a Bank Holiday weekend on this Forestry Commission site